Desert Rhino Camp, sous le signe du rhino
La raison d'être du Desert Rhino Camp est la conservation des rhinocéros noirs du Damaraland. Pour ce faire, le camp accueille ses hôtes dans 8 tentes de luxe de style meru élevées sur des plateformes, offrant tout le confort moderne dans un style safari et des vues imprenables sur le désert et les montagnes Etendeka. Desert Rhino Camp est une initiative brillante née de la collaboration du groupe Wilderness Safaris et de l'ONG "Save the Rhino Trust". D'anciens braconniers et des membres de la communauté locale ont été formés au fil des ans à la conservation des rhinocéros noirs (espèce en voie de disparition convoitée en raison des vertus magiques supposées de ses cornes). Les hôtes sont invités à partager l'expérience de la conservation de cette espèce et à découvrir les paysages lunaires de la concession privée de Palmwag. La présence de sources d'eau fraîche permet la co-existence de mammifères d'envergure comme les rhinocéros bien sûr, mais aussi éléphants, zèbres de montagne, girafes, oryxs, springboks, koudous, et donc de leur cohorte de prédateurs comme les lions, guépards, léopards et hyènes, de quoi pimenter votre séjour.
NB : Enfants acceptés à partir de 6 ans.
STYLE
Un style safari classique non ostentatoire
SITUATION
En plein coeur de la concession de Palmwag, à une centaine de km au nord de Doro Nawas
CAPACITÉ
8 Tentes de toile de style Meru
LES PLUS
Pour les amateurs de rhinocéros, le camp est "the place to be" pour les approcher au plus près en compagnie de vrais spécialistes de la conservation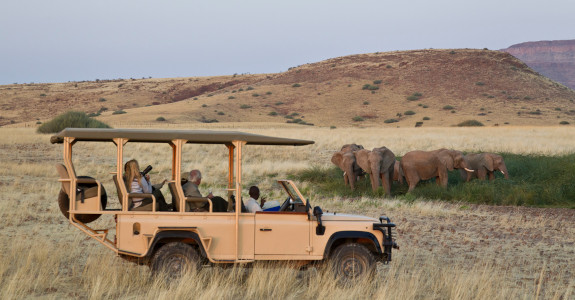 LES EXPERIENCES
Safari en 4x4 de jour et de nuit, safari de marche
Rhino Tracking à pied et en 4x4, scorpion tracking à pied
Observation des oiseaux
Piscine
L'EXTRAORDINAIRE
Bien comprendre les enjeux de la conservation des rhinocéros en Namibie et dans le reste du monde. Une expérience forte hors du commun à vivre à pied ou en 4x4 avec un guide expérimenté de l'ONG "Save the Rhino Trust". Le rhinocéros n'aura plus de secret pour vous.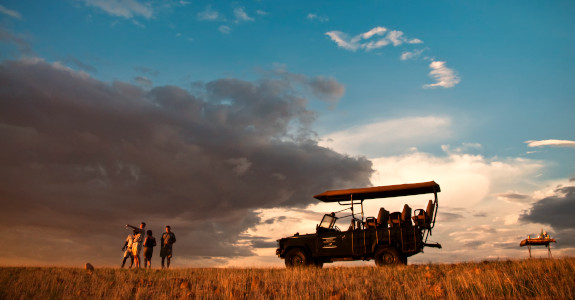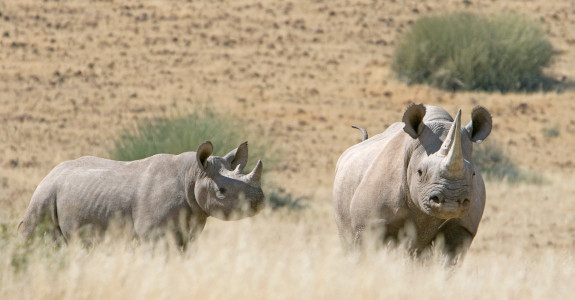 L'ETHIQUE
L'ONG "Save the Rhino Trust" a été créée pour sauver la poignée de rhinocéros noirs qui survivaient dans le Damaraland. Aujourd'hui, grâce au travail fourni par une trentaine de trackers, ce sont plus de 100 rhinocéros noirs qui évoluent librement dans la concession, avec des relocations.