Gardien de Tetiaora
The Brando est un resort intime et luxueux lové sur la superbe île privée de Tetiaroa en Polynésie Française, à une cinquantaine de kilomètres au nord-est de Tahiti. Un atoll uniquement accessible en avion privé qui se compose de 12 îlots ou « motus » en tahitien, entourés d'un lagon turquoise d'une beauté à couper le souffle. C'est à bord d'un avion privé au départ de Tahiti, Air Tetiaroa, que vous accédez sur l'île privée éponyme. Un vol splendide d'à peine 20 mn qui vous permet d'embrasser l'atoll privé qui sera le vôtre. The Brando est un ensemble de 36 villas privées de 1 à 4 chambres se fondant à merveille dans la végétation grâce à des intérieurs sobres composés de matériaux locaux. Chaque villa s'ouvre sur une piscine et une plage privées. Plongez dans des eaux translucides fréquentées par tortues marines et raies manta. Laissez-vous tenter par un soin traditionnel tahitien au SPA Varua. Dégustez les plats du chef Pierre Lecorne concoctés avec les produits bio du potager. Profitez de la vue imprenable du bar en sirotant un cocktail. The Brando a été conçu pour refléter le meilleur de la culture polynésienne dans le respect de l'environnement, pari réussi pour un séjour hors du commun.
STYLE
Le resort intègre à merveille les codes polynésiens avec une élégance discrète qui joue sur l'authenticité des matières
SITUATION
A 20 mn de vol privé au nord-est de Tahiti, sur l'atoll de Tetiaora
CAPACITÉ
36 Villas de 1 à 4 chambres
LES PLUS
The Brando, c'est l'équilibre parfait entre luxe, authenticité, nature et culture, le rêve de Marlon Brando
LES EXPERIENCES
A l'hôtel :
Piscine, Spa, cours de sport (gym, fitness, yoga, aquagym, stretching), tennis, vélo
Cours traditionnels (danse, cuisine, œnologie, cocktail, artisanat, musique, teinture)
Observation des baleines (aout à octobre), snorkeling, plongée sous-marine, paddle, exploration du lagon en pirogue ou kayak, pêche au groS
Sorties avec un naturaliste : découverte des oiseaux, du récif, tour de l'atoll et nuit des tortues (novembre à mars)
L'EXTRAORDINAIRE
Marlon Brando découvrit Tetiaroa lors du tournage des "Révoltés du Bounty". Il tomba immédiatement sous le charme de cette île à la beauté rare qui semblait le rapprocher du paradis. Avec son ami Bailey, il souhaitait créer le premier complexe au monde à empreinte carbone zéro. Une île où de nouvelles technologies innovantes permettraient aux clients, résidents et chercheurs de vivre de façon autonome dans un environnement luxueux. Le Brando est l'héritage de cette vision commune.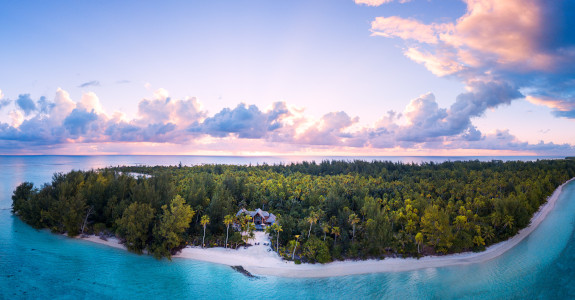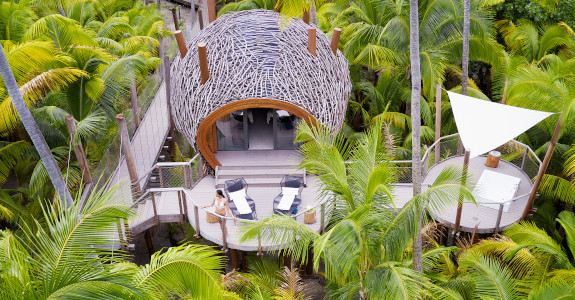 L'ETHIQUE
The Brando fait preuve d'un réel engagement dans la protection de l'environnement comme la production d'air conditionné par la récupération d'eau de mer ou encore l'utilisation de panneaux solaires et d'énergies renouvelables. Son empreinte carbone est proche de zéro. Les villas sont aménagées avec des matériaux recyclés, de production locale afin de soutenir l'économie autochtone et de respecter l'environnement.