Un lodge National Geographic dans l'Épire
Situé à Aristi, l'un des 48 villages des « Zagoria » dans le nord de la Grèce, Aristi Mountain Resort offre une base idéale pour explorer les Gorges de Vikos, les rivières et villages pittoresques de cette région sauvage, la vieille ville de Ioannina et plus loin les fameux Météores. Faisant face aux impressionnantes falaises d'Astraka, le resort se compose de 24 hébergements répartis en chambres, suites et villas en pierre locale. Isolée des autres villas, l'Aristi Residence est l'option la plus exclusive et la plus spacieuse de l'hôtel, dotée de deux chambres confortablement aménagées et d'un porche surélevé offrant une vue dégagée sur les montagnes. Après une journée d'activités outdoor, la piscine intérieure du spa et son jacuzzi vous tendent les bras, à moins d'opter pour un soin relaxant en plein air. Au restaurant Salvia, la cuisine traditionnelle à base d'ingrédients locaux s'accompagne de vins de la région, et la fameuse tarte Zagori est faite maison. L'hôtel est également fier de son nouveau concept : The Aristi Farm, où les hôtes peuvent déguster des produits venant directement du potager bio de la propriété, tout en admirant un superbe panorama sur les Gorges.
STYLE
L'hôtel respecte l'architecture traditionnelle Zagori, enrichie par des équipements modernes
SITUATION
Dans les hauteurs du village d'Aristi, dans la région d'Épire dans le nord de la Grèce à 50km de Ioannina
CAPACITÉ
24 Chambres, Suites & Villas spacieuses modelées de pierre et de bois
LES PLUS
Un spa vue montagne & une cuisine savoureuse mêlant tradition et créativité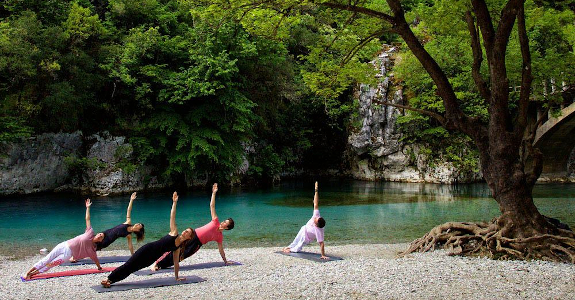 LES EXPERIENCES
Découverte des monastères des Météores
Rafting sur la rivière, canyoning, escalade au Lac Drakolimni
Balades à cheval, randonnées dans les Gorges de Vikos, deltaplane, pêche à la mouche
Sessions de Yoga
Cours de cuisine
Atelier autour de la laine
Excursions photographiques & observation des oiseaux
Visite de vignobles et dégustations
L'EXTRAORDINAIRE
Vivez la Grèce hors des sentiers battus en explorant la région d'Épire. Aristi Mountain Resort est au cœur des Zagoria, où règne une nature sauvage caractérisée par ses montagnes, ses rivières vivifiantes et ses gorges vertigineuses. Les randonnées sportives dans les canyons se complètent harmonieusement par la visite des villages typiques appelés les Zagorochoria : Papigo, Ano Pedina, Dilofo, Monodendri ou encore Bourazani raviront les voyageurs en quête de traditions helléniques et d'authenticité.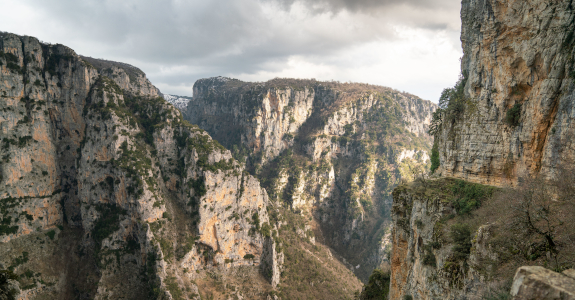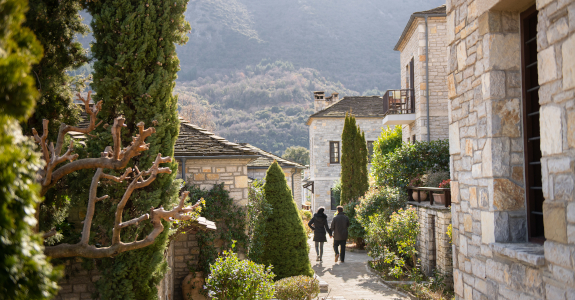 L'ETHIQUE
Aristi Mountain Resort est construit en totale harmonie avec son environnement, notamment grâce à son architecture traditionnelle composée de matériaux locaux. L'hôtel est équipé de pompes à chaleur permettant de réduire l'usage d'énergies fossiles et optimise également sa consommation d'eau. Membre des National Geographic Unique Lodges of the World, Aristi Mountain tend à éliminer les plastiques à usage unique au sein du resort (bouteilles, pailles…). L'hôtel privilégie les fournisseurs réduisant leurs emballages et travaille avec des producteurs locaux.