State of the art
Le Siam est une propriété unique en son genre, à mi-chemin entre un hôtel et un musée. Il replonge les clients à la plus grande période de Bangkok, celle du roi Rama V, avec une forte influence de l'Art Déco. Le propriétaire a fait appel au fameux architecte Bill Bensley, ayant noté leur intérêt commun dans des magasins d'antiquités. C'est ainsi qu'est né le projet fou du Siam, un hôtel dans lequel plus de 25 000 pièces chinées ont trouvé leur place naturelle parmi les 39 suites et villas et les nombreux espaces de vie commune, comme les 2 restaurants "Deco" et "Chon Thai", le bar "Bathers", le café "Cha", la bibliothèque, le magasin, la galerie d'art et le spa "Opium". Le résultat est bluffant, le travail de l'espace, de la lumière, de l'intégration du mobilier, des objets et du végétal confère à l'hôtel une atmosphère très apaisante, à la limite du rêve éveillé.
STYLE
Une adresse à la limite de la galerie d'art, mêlant avec subtilité l'art déco aux antiquités asiatiques
SITUATION
Dans le district de Dusit, au bord du fleuve Chao Phraya, à proximité des sites historiques
CAPACITÉ
28 Suites, 10 Villas & 1 Cottage
LES PLUS
Un hôtel superbement décoré d'où l'on peut rayonner à pied et en bateau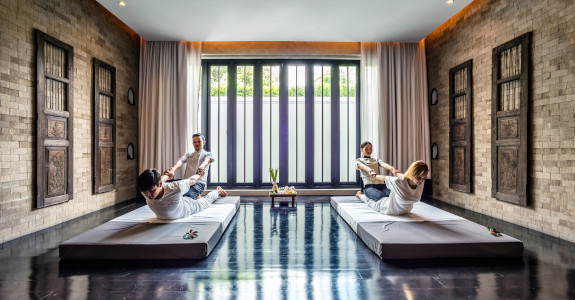 LES EXPERIENCES
Profiter de la magnifique piscine surplombant le fleuve Chao Phraya
Se faire dorloter à l'« Opium Spa », faire une séance de gym, yoga ou de tai chi au 14ème étage avec vue sur la ville
Monter sur le ringet vous initier à la boxe thaïe
Découvrir le marché accompagné du Chef, suivi d'un cours de cuisine
Monter à bord de la navette privée et se rendre sur les sites historiques de Bangkok comme le Grand Palais et les temples de Wat Pho et Wat Arun
L'EXTRAORDINAIRE
Et si vous embarquiez à bord du Naga d'Or pour un apéritif au coucher du soleil ou un dîner privé sur la rivière Chao Phraya ? Le Naga est une barge en teck doré, qui était à l'origine destinée à transporter le riz vers les principales villes de Thaïlande. Accueillant jusqu'à 8 convives, elle a été aménagée en bateau privé de croisière avec un joli rooftop permettant de découvrir les sites clés de Bangkok depuis la rivière. C'est l'une des excursions "signature" du Siam !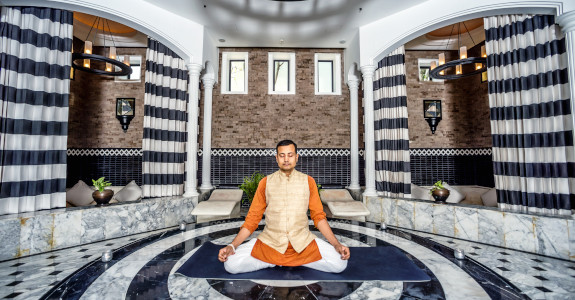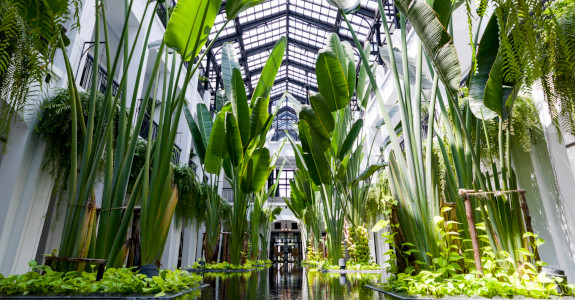 L'ETHIQUE
Le groupe hôtelier Sukosol, propriétaire du Siam, est un acteur important dans le développement durable. Pour ce faire, il a mis en place des programmes de charité et de respect des normes environnementales dans tous ses hôtels. Le choix de l'architecte Bill Bensley a aussi été dicté par cette logique de durabilité qui est au cœur de tous les projets du cabinet d'architecture.