The Serai, une maison Relais & Châteaux
C'est loin de l'agitation de la ville de Jaisalmer, dans un paysage de dunes et de steppes à perte de vue que s'installe chaque année, d'octobre à avril, le campement éphémère The Serai, qui se compose de 21 tentes spacieuses en toile blanche. Les tentes sont inspirées des caravanes royales de Rajputana et sont luxueusement aménagées et décorées dans un style colonial élégant. Chacune des tentes dispose de sa propre terrasse et certaines possèdent un jardin privatif et une petite piscine. Le restaurant, également aménagé sous une tente, propose des plats indiens et occidentaux cuisinés au feu de bois et préparés avec des produits biologiques cultivés sur place. Selon vos envies, vous pourrez choisir de dîner soit au restaurant, dans une ambiance tamisée, à la lueur des bougies, soit à l'écart dans le camp, sous les étoiles et profiter de l'ambiance magique et sereine du désert. The Serai est un endroit merveilleux au cœur du désert, camp idéal pour partir admirer les dunes du désert du Thar, découvrir les villages environnants et observer la faune du désert.
STYLE
Un campement de luxe éphémère au design moderne et colonial
SITUATION
Dans les steppes du nord-ouest du Rajasthan, à 1 h du route de la cité mythique de Jaisalmer
CAPACITÉ
21 tentes luxueuses en toile de coton blanc
LES PLUS
La région de Jaisalmer est l'endroit rêvé pour admirer les dunes, les superbes couchers de soleil et partir s'aventurer dans le désert à la découverte de la faune du désert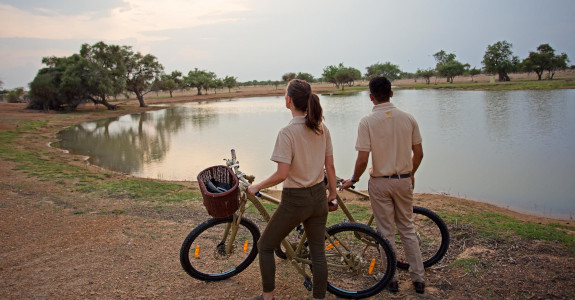 LES EXPERIENCES
Faire une promenade à dos de chameau, spotter les oiseaux du désert (outarde et aigle tâcheté)
Visiter la cité médiévale et la forteresse de Jaisalmer, un site reconnu au patrimoine mondial de l'UNESCO
Découvrir le village abandonné de Kuldhara, explorer les villages de bergers
Se faire dorloter au Spa, se rafraîchir dans la piscine
L'EXTRAORDINAIRE
Vivez l'expérience unique du « Thar sundowner » : à la tombée du jour, vous partirez faire une balade inoubliable à dos de chameau dans le désert de Thar, puis vous vous arrêterez sur l'une des dunes pour contempler le sublime coucher de soleil et ses nuances de couleurs, tout en sirotant un apéritif. Un moment magique inoubliable !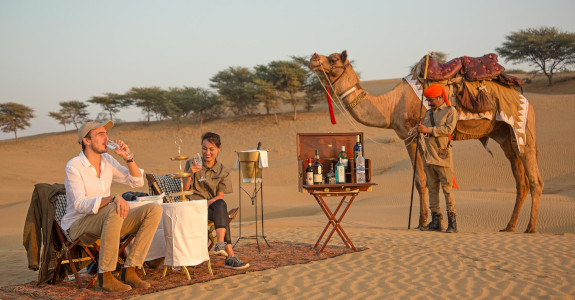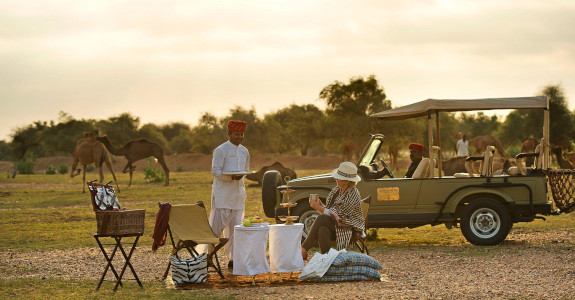 L'ETHIQUE
Le groupe hôtelier Sujan est un acteur important dans le développement durable, en mettant en place des programmes de sensibilisation dans le respect et la conservation de la faune sauvage, ainsi que dans des programmes dédiés à la population locale, comme l'emploi et la formation de personnel venant des communautés voisines.