The Outpost, loin de tout
Pour vivre une véritable expérience de safari, en 4x4 comme à pied, le voyageur peut compter sur l'Outpost, un lodge situé dans l'une des plus belles régions sauvages du Kruger. Le site naturel du Pafuri est une région à part entière, si différente des sentiers classiques du parc Kruger que l'on pourrait se croire transporté en Afrique Centrale! The Outpost est lové au cœur d'une vaste étendue sauvage de 26 500 hectares regorgeant d'espèces sauvages et permettant d'observer une biodiversité peu commune dans le reste du Kruger, notamment d'étonnantes antilopes : nyalas, oryx et raciphères de Sharpe sont de la partie. Le parc abrite également plus de 350 espèces d'oiseaux dont l'exceptionnel aigle couronné. Côté végétal, le lodge emmène ses visiteurs à la rencontre des plus vieux baobabs d'Afrique dont les troncs immenses font renverser les têtes. C'est dans cette nature brute et indomptée que se sont installées les 12 suites de l'Outpost ainsi que le lodge exclusif Pel's Post, Ouvertes sur le bush et la rivière, ces suites offrent une vue panoramique spectaculaire. Leur design moderne, alliant bois, pierre et béton ciré, se fond subtilement dans le paysage.
STYLE
Hyper moderne avec la part belle au béton, au verre et à l'acier
SITUATION
Au nord du Kruger, dans la concession privée de Pafuri de 26 500 ha
CAPACITÉ
12 Suites ouvertes sur une nature généreuse
LES PLUS
L'architecture avant-gardiste du lodge et son emplacement unique dans l'une des zones les plus sauvages d'Afrique du Sud en font un "must see"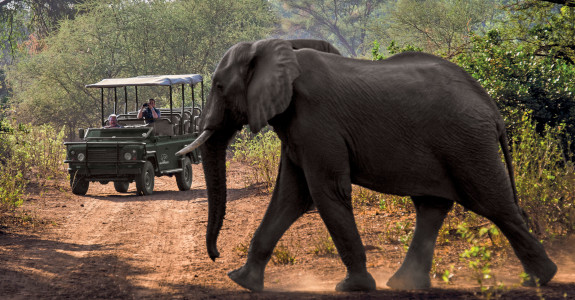 LES EXPERIENCES
 Safaris en 4x4, safaris à pied, randonnées et safaris oiseaux (sur demande)
Visite de villages Makuleke
Soins & massages
L'EXTRAORDINAIRE
Séjourner à l'Outpost, c'est s'émerveiller devant des paysages à couper le souffle, avoir le sentiment d'être loin de tout, partir en safari avec des guides exceptionnels et observer des animaux purement sauvages peu dérangés par des hordes de 4x4... Définitivement un autre Kruger.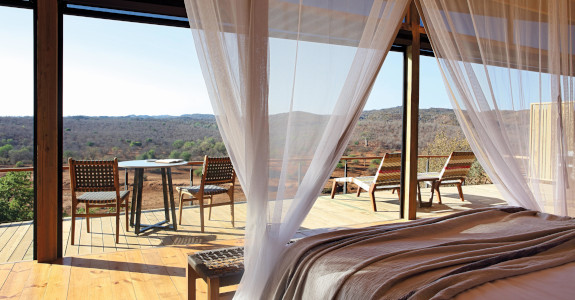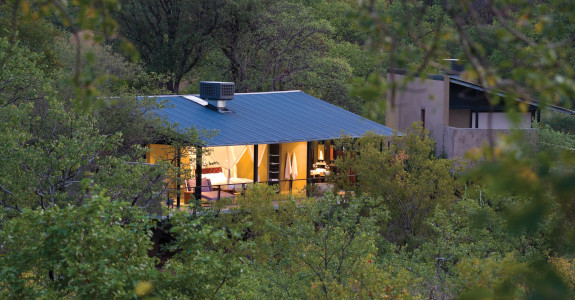 L'ETHIQUE
Le parc du Makuleke était auparavant une zone de droit pour les braconniers. Grâce aux unités anti-braconnage du lodge, aux actions de réintroduction d'espèces et de protection de la biodiversité et au partenariat créé avec les communautés locales pour la promotion de l'écotourisme, l'écosystème du Makuleke a initié sa régénération. De plus, les suites de l'Outpost ont été conçues de manière à s'intégrer dans le paysage tout en réduisant leur impact sur l'environnement (utilisation raisonnée d'eau et d'énergie, surface au sol minimisée…).