Dubaï Royal
Le One&Only Royal Mirage est un complexe hôtelier incontournable à Dubaï qui jouit d'un décor exceptionnel, d'un côté la vue sur la baie de Palm Island, de l'autre les lignes effilées de la "skyline". Le Royal Mirage se décline en 4 options d'hébergements aux charmes inspirés par l'orient et l'histoire des Emirats. The Palace réunit 220 clés, l'Arabian Court 170, la Résidence 50 et enfin la Beach Garden Villa est un petit bijou privatif de seulement 2 chambres. La villa s'adresse à une clientèle recherchant l'intimité absolue, quant aux hôtes des 3 autres structures, ils profitent d'un vaste nombre d'infrastructures superbement gérées comme plusieurs piscines, 15 restaurants et bars, un spa, un kids club... La promesse d'un séjour bien rempli et qui pourra s'enrichir encore d'expériences sur mesure que peuvent vous concocter les concierges.
STYLE
Un style très oriental, imaginé à la gloire des Emirats tout en intégrant les codes contemporains
SITUATION
A 30 mn de l'aéroport, au niveau de The Palm
CAPACITÉ
3 Hôtels & 1 Villa
LES PLUS
Le concept Royal Mirage est unique en son genre avec sa plage, son spa, ses restaurants, ses bars, son kids club...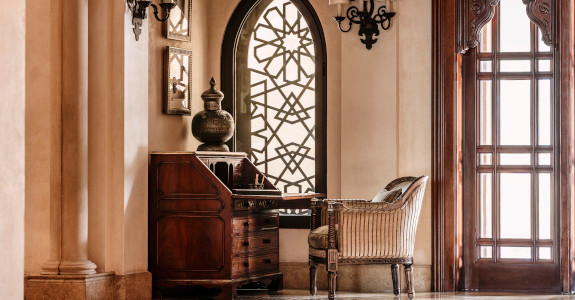 LES EXPERIENCES
A l'hôtel : Spa, Gym, Club Nautique, Tennis, Pétanque, Beach Volley, Basket Ball, Kids Club
Autour de Dubaï : Visite guidée de la ville, Atlantis, excursions dans le désert, fauconnerie, golf
L'EXTRAORDINAIRE
Réservez une table au Restaurant "Celebrities" coaché par le célèbre chef étoilé italo argentin Mauro Colagreco (3 macarons Michelin au Mirazur de Menton). Il apporte sa vision gastronomique inimitable en introduisant de nouveaux concepts culinaires. Inspiré par la mer, la montagne et les fruits et légumes frais, Mauro invente des assiettes épurées, picturales, colorées qui jouent sur les textures et les associations audacieuses.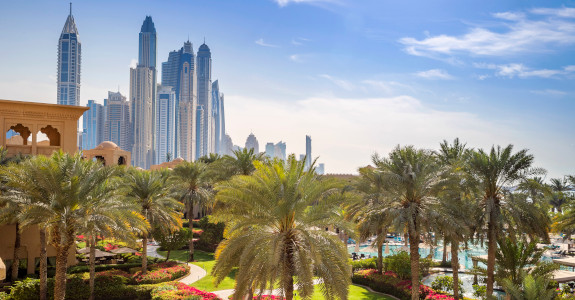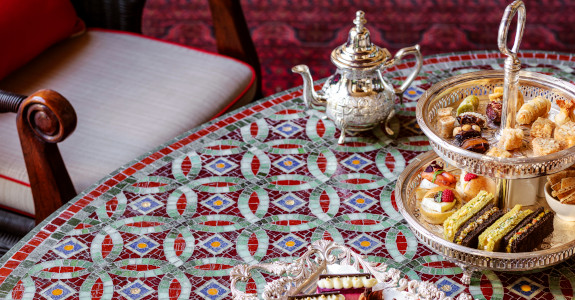 L'ETHIQUE
Le One&Only Royal Mirage est labellisé Green Globe, certification internationale de tourisme durable, basée sur des critères de gestion de l'eau et de l'énergie, de protection de la biodiversité, de gestion des déchets, de l'utilisation du sol et de l'espace, de la qualité de l'air ou encore des émissions de gaz à effet de serre.